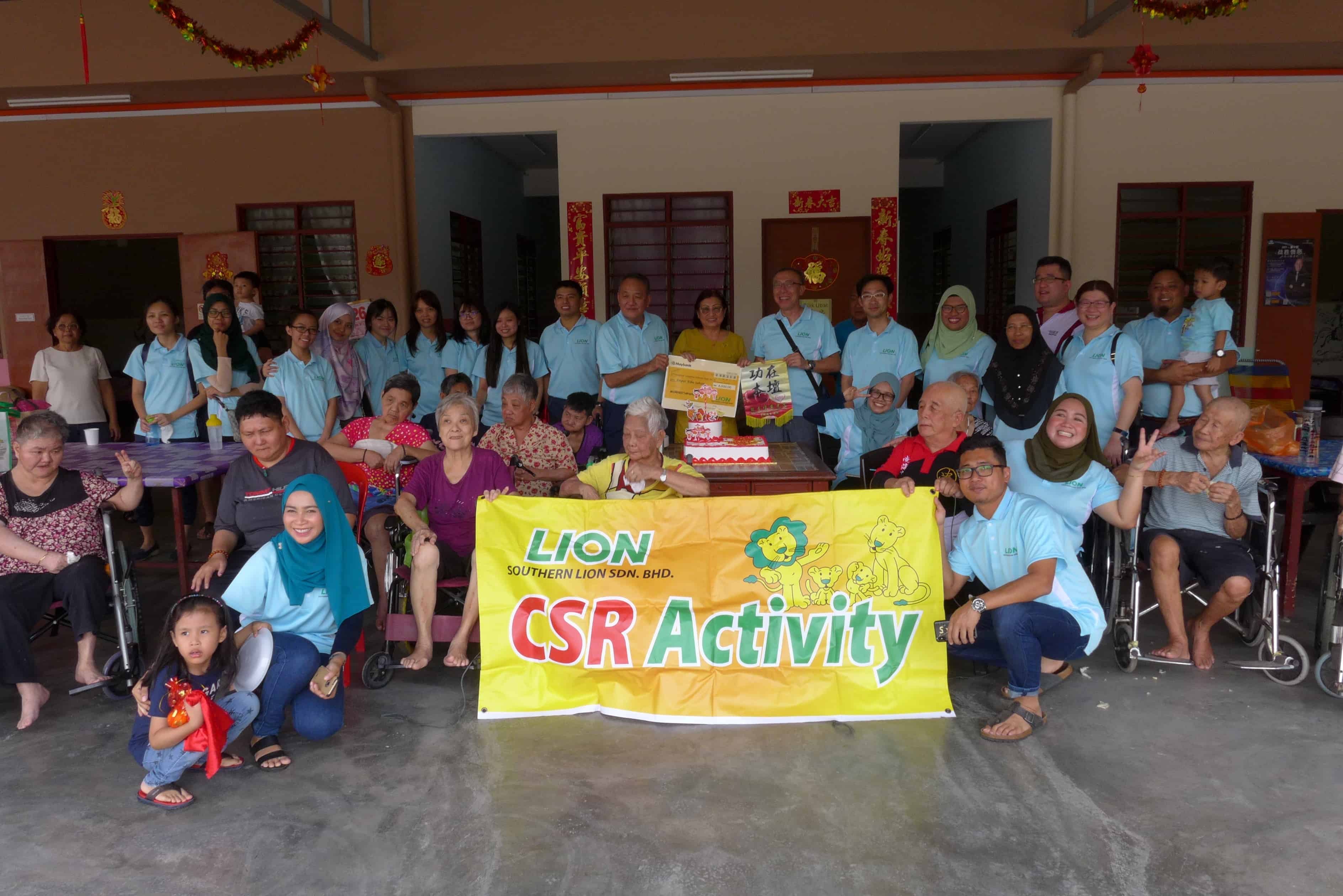 27 January 2018, Johor Bahru – Around 21 staff from Southern Lion Sdn Bhd (SLSB) have participated in a corporate social responsibility (CSR) program organized by Corporate Communications Department of Southern Lion Sdn Bhd at Pertubuhan Kebajikan Prihatin Kuan Yin in Kempas. This care centre is occupied by 70 elderly ages from 40 to 90 years old.
The objective of this program is to celebrate the Chinese New Year with the golden citizens housed in the centre. In addition, the program is a great platform for the staff to inculcate positive values, true to the Life.Love.LION spirit.
In line with the objective of this program, the activities held during the program are all with the purpose to bring a festive Chinese New Year celebration to the care centre and the residents. Among the activities held was a mingling session with them where we did activities such as playing chess, manicure and pedicure and just chit chatting with them. We also did a special dance performance for the elderly.
The residents were delighted when we had the Yee Sang Ceremony together with them, something synonymous with Chinese New Year celebration. The festivities continued with a small feast and cake cutting ceremony
Managing Director of Southern Lion Sdn Bhd , Mr Tatsuya Horiuchi and R&D Director, Mr Eiji Ogura also celebrated this event together with us. They handed out Ang Pow packets and Gift Bags to all the residents.
Southern Lion Sdn Bhd also donated our products such as toothbrush, toothpaste, shampoo and lotion for the elderly's personal care. Besides that, also contributed are daily needs for the care centre itself such as cooking oil, rice, and much more.
Both Managing Director and R&D Director also have the opportunity to handover a cheque of     RM4, 000 which was part of the total contribution is from the entire Southern Lion Sdn Bhd staff. He hoped that the donation would help to cover the cost of the care centre.