Corporate Activities 2018
1. Participation in the 25th MDA Scientific Conference and Dental Exhibition

Kuala Lumpur, 26-28 January – Southern Lion participated as trade exhibitor during the 25th Scientific Conference and Trade Exhibition organized by MDA (Malaysian Dental Association) in PWTC, Kuala Lumpur from 26-28 January 2018.
Close collaboration and working together with Dental Professionals is an integral part of efforts to increase awareness among the general public and to establish "Preventive Dentistry" which is a concept that Southern Lion is continuously promoting. During the Trade Exhibition, Southern Lion explained on the functions and unique functions of the gum care brand, Systema. In total, there were around 1,000 participants and dental professional who visited the Trade Exhibition. All the visitors received samples for them to try out.
The "Preventive Dentistry" concept which Lion Corporation is promoting in overseas group companies is an initiative conducted in collaboration with dental professionals, retailers and Lion. Lion together with Dental Professionals will put in efforts to increase awareness and understanding in oral care by sharing information on good oral care practices and effective tooth brushing methods. In addition to this, we will help to provide products that suits all oral care needs to retailers and other markets.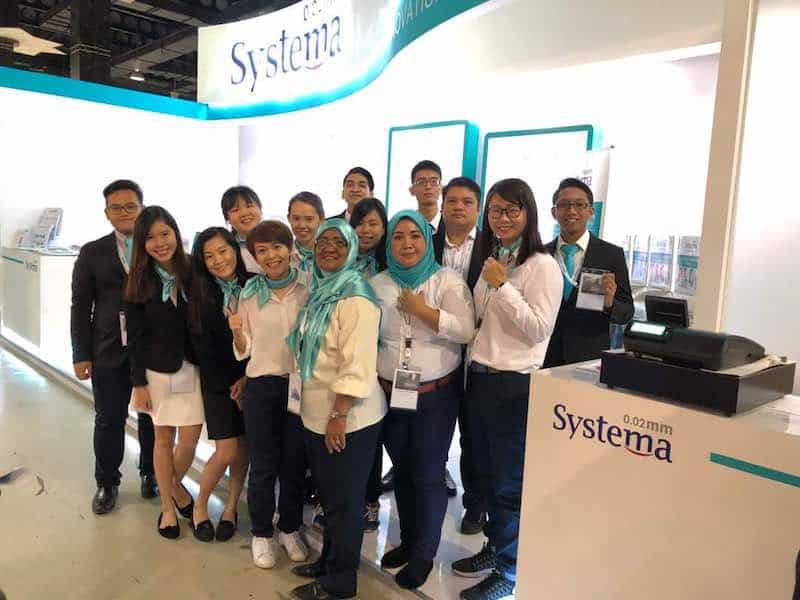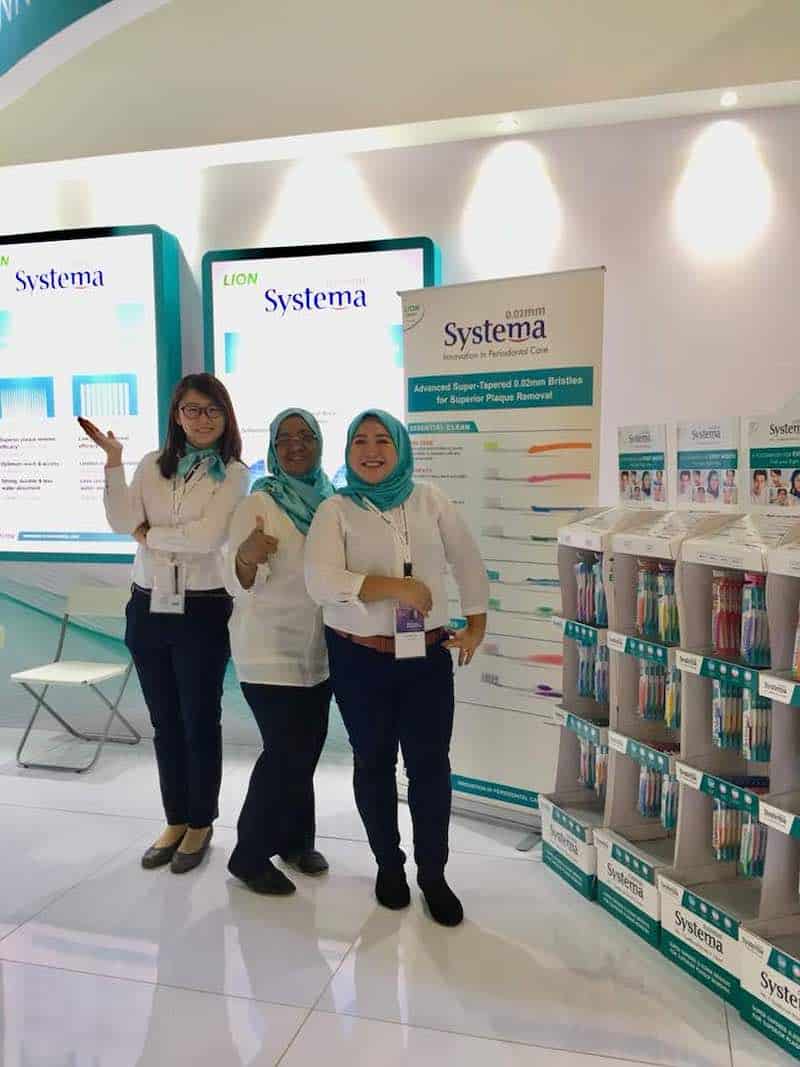 2. CSR Activity in Conjunction with Lunar New Year

Johor Bahru, 3rd February 2018 – Southern Lion organized a CSR Activity in conjunction with the Lunar New Year for the under privileged children from Persatuan Kebajikan Mesra Megah Ria.
The organization was home to 40 children ages from 0-18 years. Southern Lion held a donation drive prior to the visit and managed to raise RM 2,350.00 and the company raised the amount to RM 10,000. We also sponsored groceries and Southern Lion products for the home's daily usage.
On the 3rd of February 20 of our staff joined in the Program where we brought all the children for brunch at a popular fastfood outlet. The children were really happy and had a lot of fun.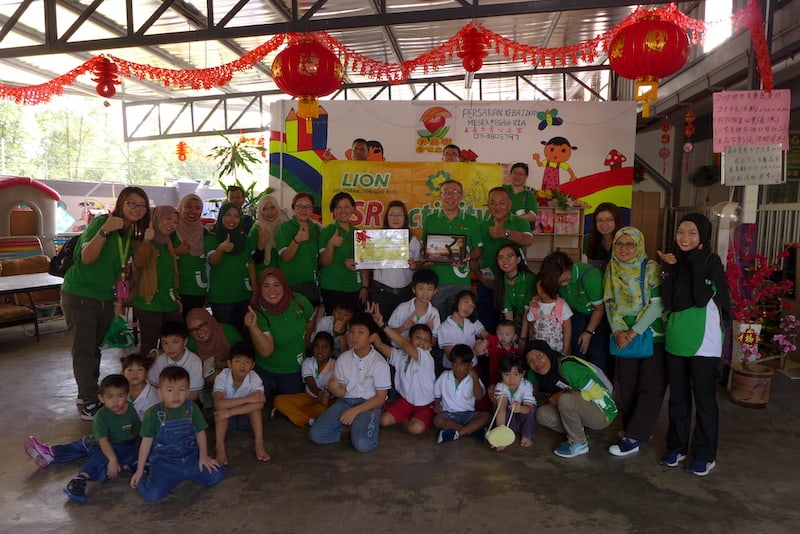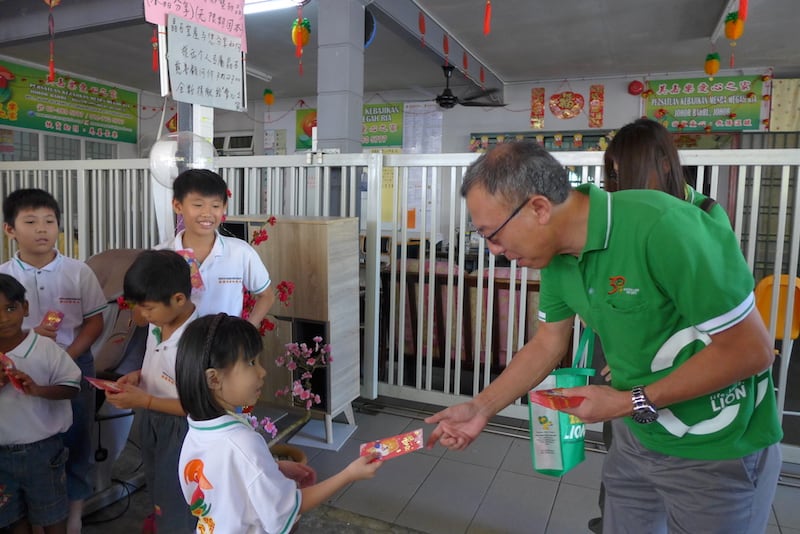 3. Charity Sales Carnival in Sekolah Kanak-Kanak Kerencatan Akal

Johor Bahru, 28 April 2018 – Persatuan Bagi Kanak-Kanak Kerencatan Akal Johor (PBKKAJ) organized a charity sales carnival to raise funds for the association and also the school. In line with the mission of Southern Lion Sdn Bhd (SLSB) to bring a happier, cleaner and healthier living to all Malaysians, Corporate Communications Department of SLSB took part in this carnival by selling our own products such as TOP, Shokubutsu, Fresh & White and Kodomo Lion. All of the profits collected were channelled to the organization and Southern Lion Sdn Bhd managed to collect RM1,335.00 through the sales of our products.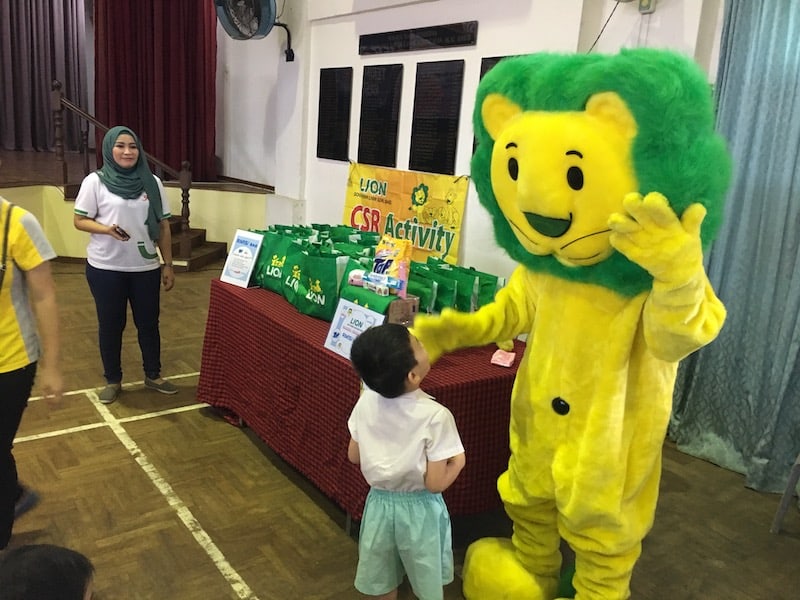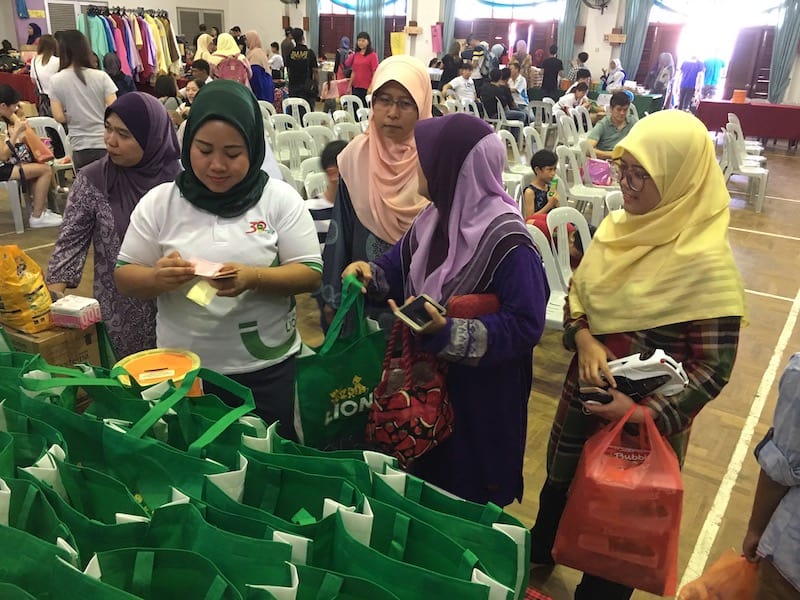 4. Jalinan Kasih Ramadhan

Johor Bahru, 1 June 2018 – Ramadhan is one of the holiest months in the Muslim calendar and is considered a special month due to the generosity that Allah bestows upon His servants during this time. To honour this holy month, Southern Lion Sdn Bhd (SLSB) organized an Iftar program with with the children from Pertubuhan Kebajikan An-Nur, Permas Jaya.
Managing Director of SLSB, Mr. Tatsuya Horiuchi and the Research and Development Director of SLSB, Mr. Naoyuki Egawa attended the program to experience the Iftar celebration with all the children. In order to uplift the spirit of 'Hari Raya', the children received 'duit raya' that was distributed by Mr. Tatsuya Horiuchi. Southern Lion also distribute our own quality products and some other gifts to help the home and the children prepare for 'Hari Raya Aidilfitri'. This activity seen to be a good platform for Southern Lion and their staff to cultivate the spirit of giving back to the society and help create a smile on the faces of the underprivileged.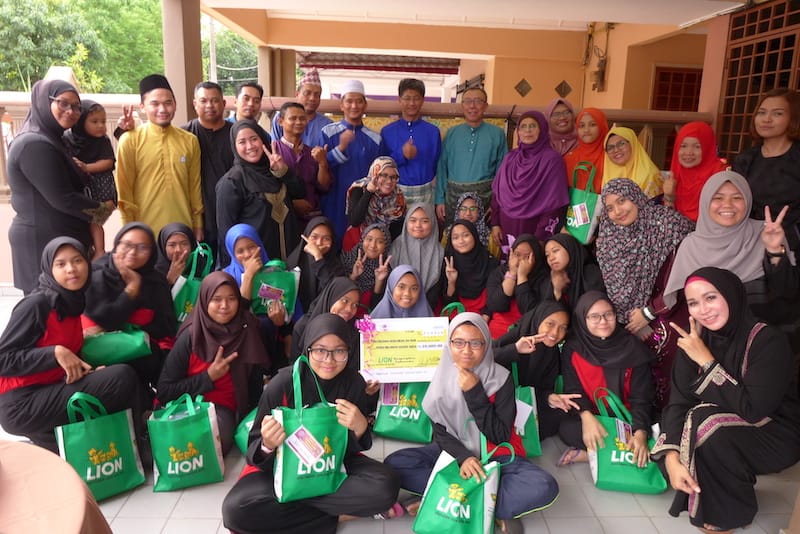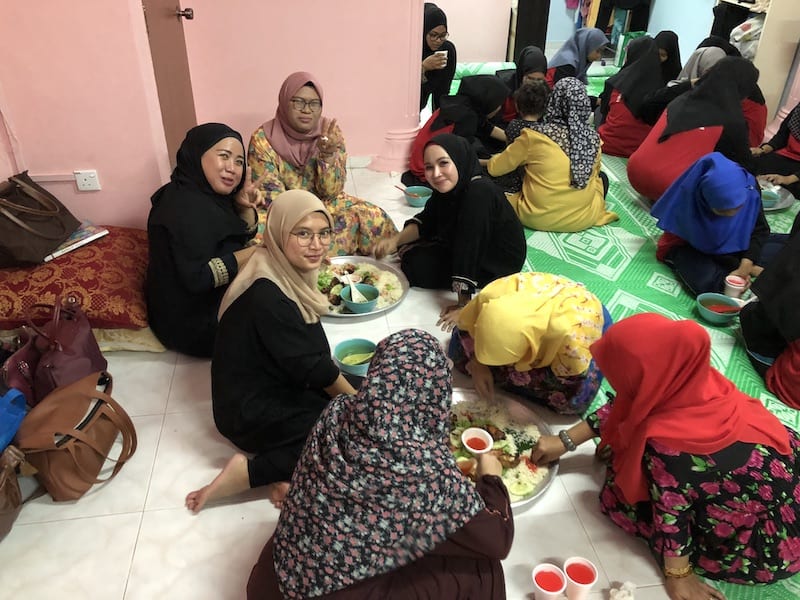 5. IOI Charity Run

Almost 21 staff of Southern Lion Sdn Bhd with their immediate family members participated in charity run that was organized by IOI Properties Group in IOI City Mall Kulaijaya, Kulai. The objective of this program is to help the underprivileged people whereby all proceeds from the Registration Fees will be donated to a charity organization. For 2018, all proceeds will be donated to the Program Pemulihan dalam Komuniti Muafakat Permai and Southern Lion succeed to donate RM420.00 through the registration of our staff and family. Southern Lion also distributed our product Fresh & White toothpaste as part of the items for participants goody bags. This program is a good medium for the employees to participate in CSR activities.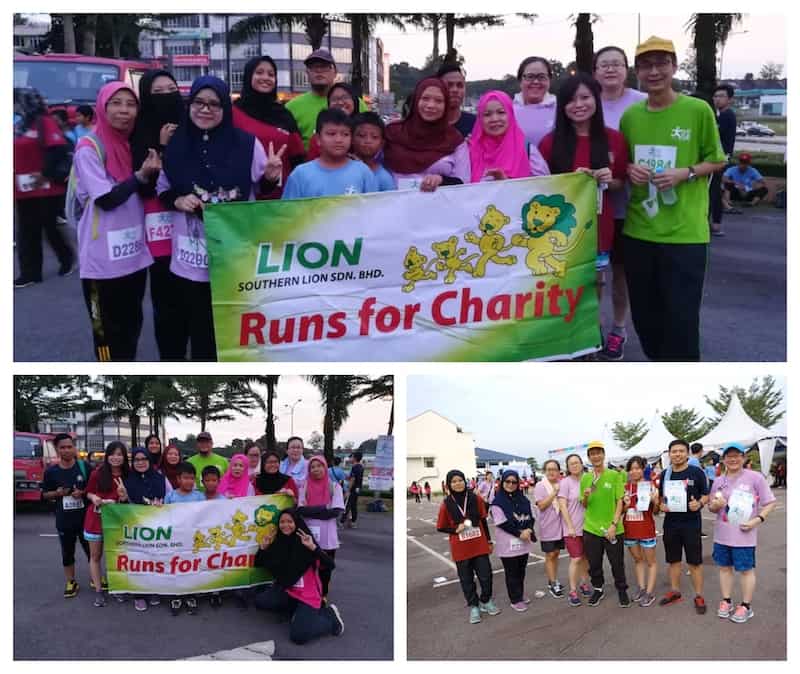 6. Cerebral Palsy Charity Sale

Johor Bahru, 4 August 2018 – Southern Lion Sdn Bhd once again took part in the activity that is organize annually by Johor Cerebral Palsy Association. The objective of this program is to raise funds and reducing the financial burden incurred while managing the association. Southern Lion prepared 100 bags containing a variety of Southern Lion products to be sold to visitors and all the proceeds will be given to the association. The amount that was collected by Southern Lion during the program is RM 1, 507.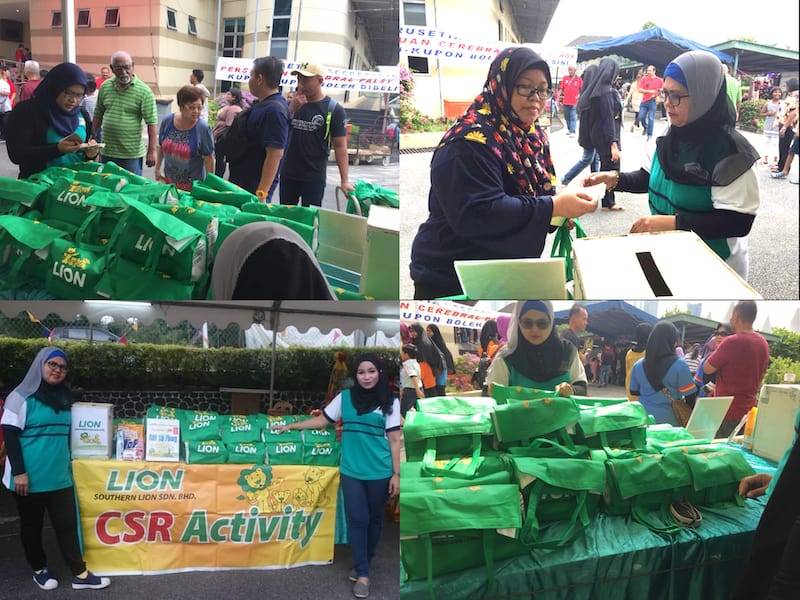 7. Launching of Systema Save Your Gum, Save Your Teeth Campaign

In line with the launching of the Systema Advance Anti-Plaque Toothpaste on 3rd October 2018, the Systema Save Your Gums, Save Your Teeth campaign was launched, in line with our mission to raise awareness and educate the community on gum disease and good oral hygiene.
Mobile Dental Clinics are provided by MOH and UiTM and they will be touring across Malaysia to provide free gum check for Malaysians.
Systema pledged 30,000 Systema Advance Anti Plaque Toothpaste to the community. It will be distributed via the Malaysian Society Of Periodontology.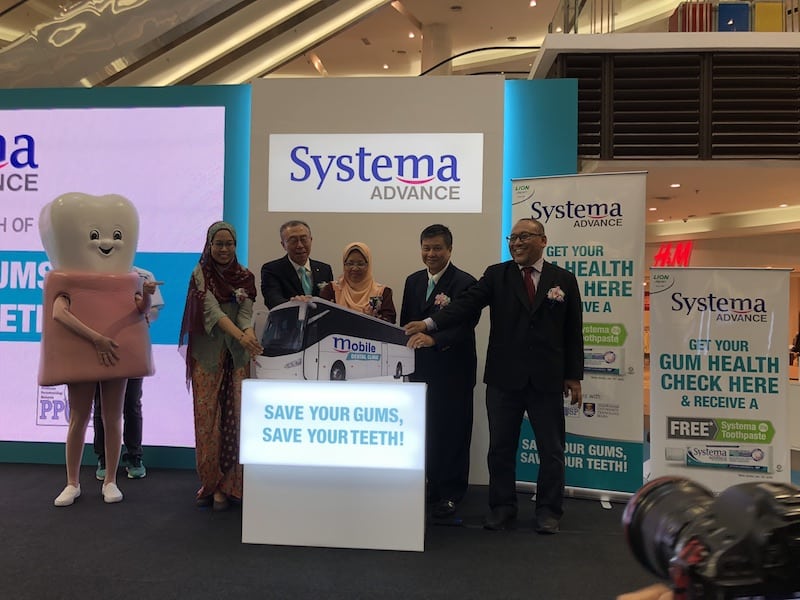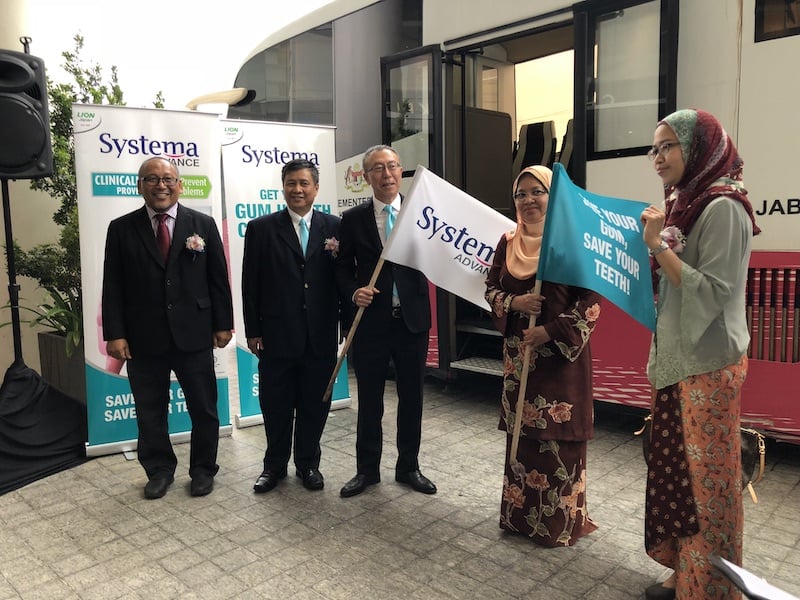 8. Life.Love.LION – The New Corporate Logo & Slogan for Southern Lion Sdn Bhd

Johor Bahru, 8 October 2018 – Southern Lion has been around for more than 30 years in Malaysia and our products are one of the most established and competitive in the market. We have managed to stay in the forefront by listening to the people and creating innovative products. In line with the advancement of our products and technology, we would also like Southern Lion, as a whole, to be seen as a trusted and reputable company by the people.
With that as our objective, we have decided to adopt Lion Group's Corporate Slogan as we share the very same values. The Corporate Slogan "life.love" was launched in 2012. Since then, Lion group members in the countries such as Korea, China, Taiwan, Hong Kong, Indonesia and Singapore have all adopted this as their Corporate Slogan. Why did Lion want to have a Corporate Slogan? Because LION wanted to communicate the values that we believe in to all our customers and also share it it with all Lion Group members. So it had to be something simple, easy to remember but very meaningful to everyone. These 2 words, life and love have one of the biggest impacts in our lives. Life : A natural force of us being here, the day to day experience of living and the journey that is a lifetime. And love evokes so many different emotions such as compassion, caring & tenderness
The slogan "life.love" expresses the company's commitment to help people in making each day more meaningful, healthy, positive and filled with happiness, contentment and beauty. We hope to inspire the Malaysian public to continue using our products and also create a bigger pool of Lion product users by contributing to their "life.love". In order to fulfill this promise, Southern Lion will also continue to conduct various corporate activities comprehensively, and create more value for the lifestyle of fellow Malaysians.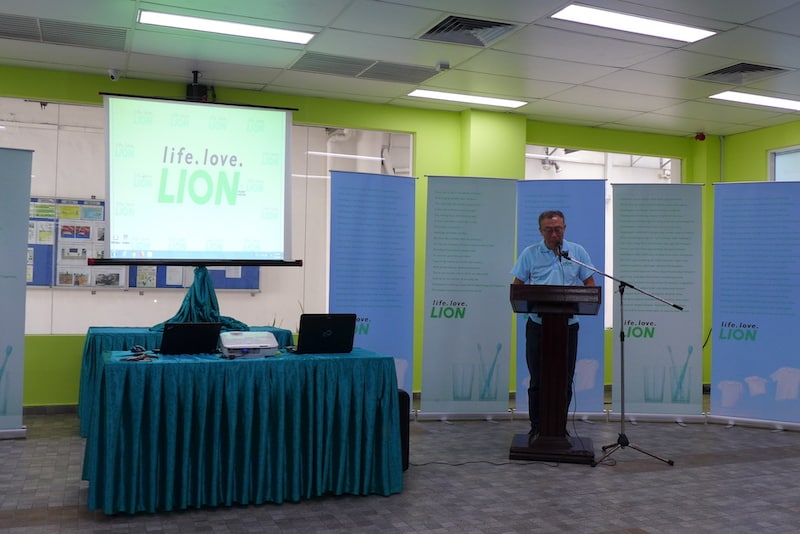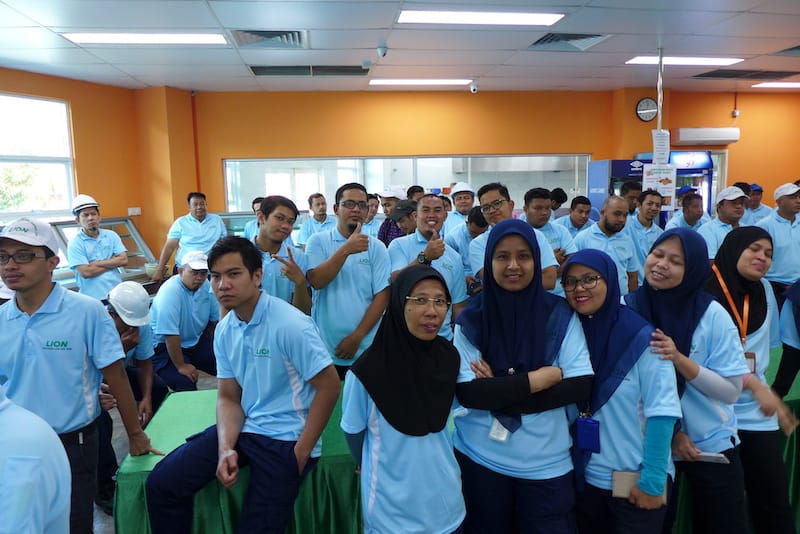 9. Signing of MOU with KYPJ

Kota Tinggi, 30 Oktober 2018 – Kolej Yayasan Pelajaran Johor (KYPJ) together with 8 industry players that includes Southern Lion Sdn Bhd has signed a memorandum of understanding (MOU) to share the expertise and create more job opportunities for the graduates. The ceremony was held at KYPJ main campus and witnessed by Speaker of Dewan Undangan Negeri Johor, En Suhaizan Kayat and Chief Executive Officer of Kumpulan Pendidikan KYPJ, En Abdul Rashid A. Rahman. The agreement involves enhancing the quality of diploma programs in KYPJ as well as placement of industrial training for the students.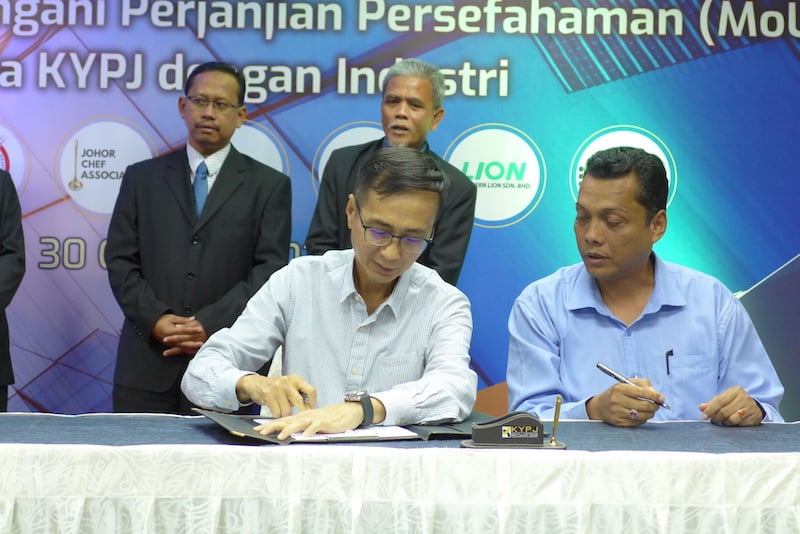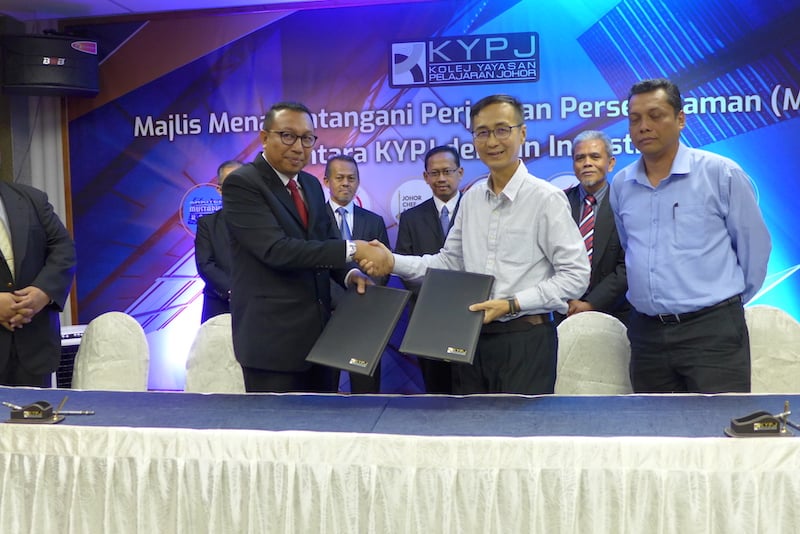 10. Personal Hygiene Education With The Kids From CSB Rohingya Learning Centre

Johor Bahru, 22 November 2018 – Representatives from Southern Lion Sdn Bhd (SLSB) consist of staff from Corporate Communications Department once again visited the CSB Rohingya Learning Centre in Kempas to educate and create awareness for the children ages from 6 to 17 years old on the importance of personal hygiene. The representatives taught the kids the appropriate technique on tooth brushing, hand washing and hair washing using Southern Lion products that are Kodomo Lion, Fresh & White, Emeron and Shokubutsu Active Guard. We also donated basic learning necessities like stationery and books for their own personal use.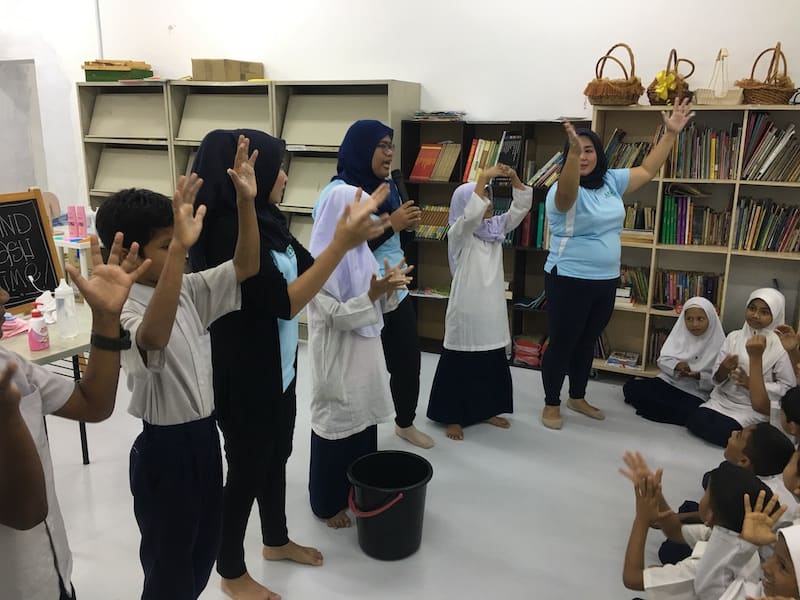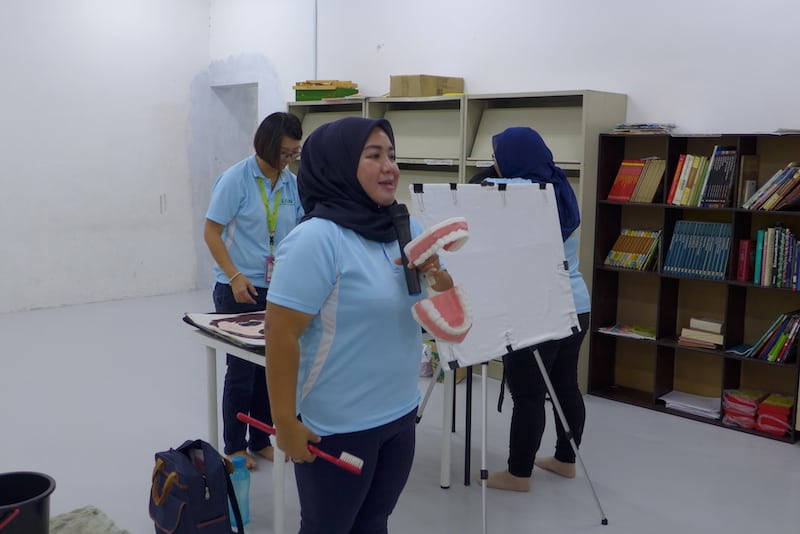 11. You're My Pink Reason: Shokubutsu Breast Cancer Awareness Campaign

Johor Bahru, 13 November 2018 – Breast cancer is the leading causes of death among women in Malaysia. The percentage of breast cancer patients is 31% compared to other cancers. Breast cancer is common in women and only 1% of males have developed this cancer. Nearly 3,500 breast cancer cases are detected every year. Breast cancer is a major cancer among women in Malaysia and followed by cervical cancer. About 1 in 20 women are at risk of breast cancer.
In conjunction with Pinktober, October, the month of breast cancer awareness, Shokubutsu held the 'You're My Pink Reason' campaign and free breast check-up for both male and female staff in the Corporate Office & Factory of Southern Lion Sdn Bhd here in Johor Bahru. The personnel from National Cancer Society Malaysia (NCSM) helped to conduct the breast examination and also taught them how to do the breast self-check because prevention is better than cure. In addition, a free health check-up for Body Mass Index (BMI), blood glucose level and blood pressure were also conducted on the same day.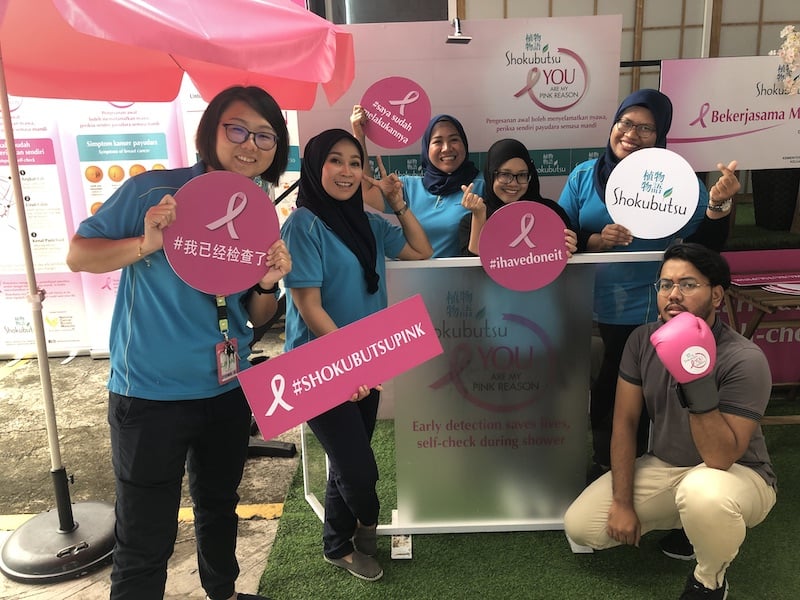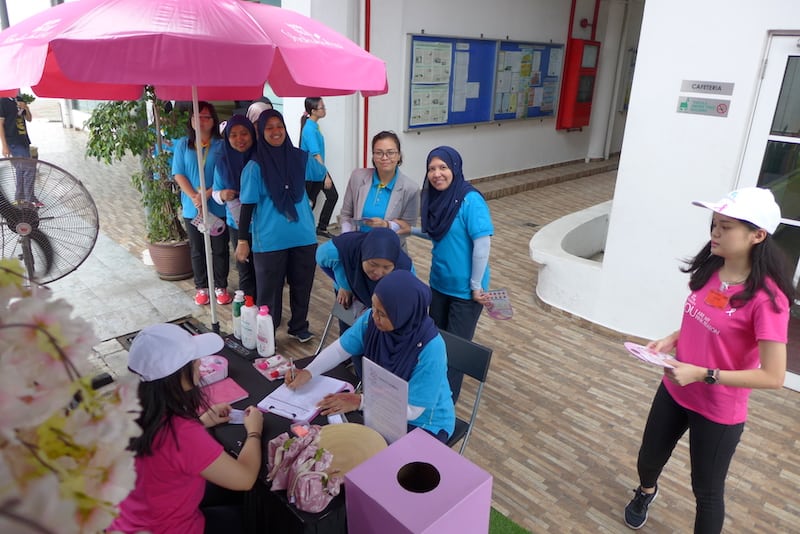 12. Southern Lion Oral Health Day

Johor Bahru, 29 November 2018 – As part of the company's efforts to promote the concept of Preventive Dentistry, Southern Lion conducted the first Oral Health Day to create awareness among internal staff on the importance of good oral hygiene and gum disease and its prevention.
The activity was conducted in collaboration with Ministry of Health, Oral Health Division under KP Abdul Samad. Free Dental check-ups were provided by MOH via their mobile clinic. An Oral Health talk was held by the Dentists in the afternoon, focusing on gingivitis- signs, causes, treatment and prevention. Around 100 employees participated in the Dental Check-Up. Southern Lion plans to make this an annual activity in efforts to increase awareness on good oral hygiene practices for all the staff.
All the employees who participated in the free dental check-up received a Free Systema Toothbrush and Toothpaste which is suited to their dental needs.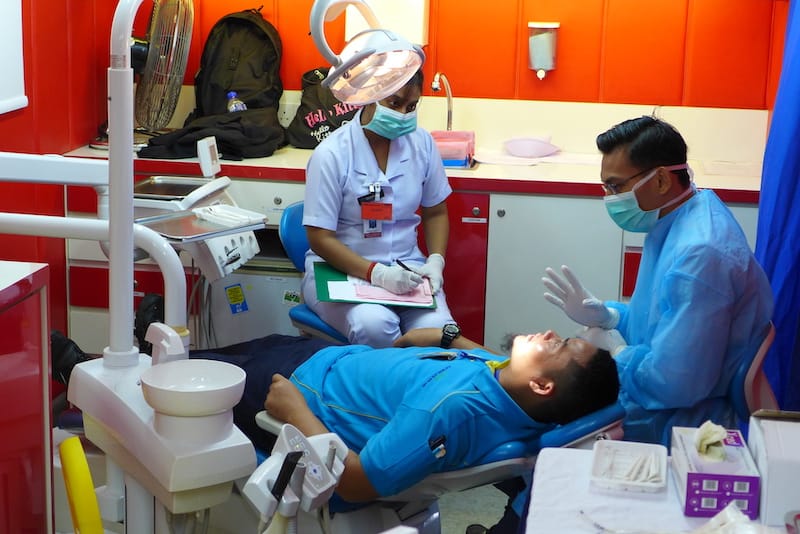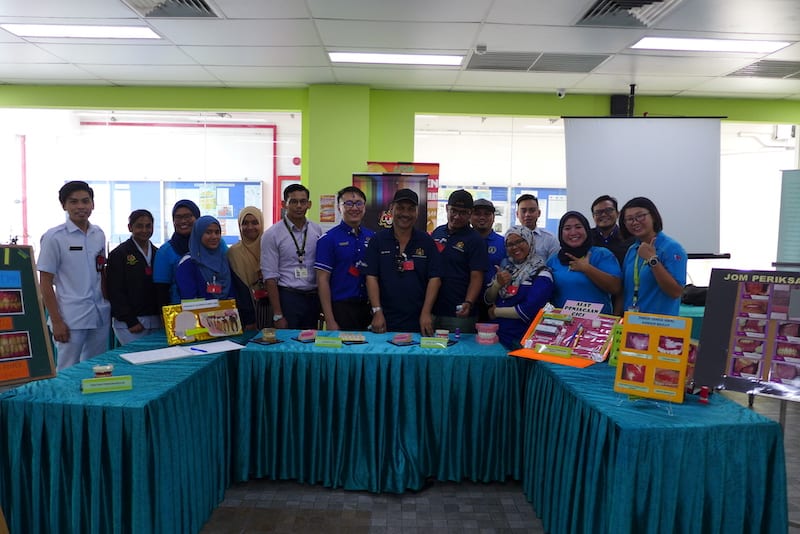 13. Southern Lion is Going Back to School

Southern Lion Sdn Bhd held our Annual Dinner on 14 December 2018 with theme 'Let's Go Back to School' in KSL Resort, Johor Bahru. This splendid dinner was attended by almost 400 staff of SLSB including the top management of SLSB and Lam Soon Edible Oils Sdn. Bhd.
The staff with 5, 10, 15, 20 and 25 years' of service with Southern Lion received a token of appreciation & certificate to acknowledge their loyalty and services to the company. Also, there are awards that were presented for the departments that achieve targeted objective such as Zero Accident Award, 5S & Safety Award and also department with the most safety initiatives / ideas. Also held was the 2018 Sports Awards presentation by Mr Motohiro Ando, Director of Engineering & Production to the sports team with highest point. The Lucky Draw Session and Performances made the night even more memorable for all our staff.